What is E-girl? Brief Explanation
'E' in term e-girl, stands for electronic. E-girls for electronic girls. In short, this is a phenomenon where people are showing their self-expression by creating new personas on the internet. With the emergence of social media such as TikTok and Instagram, old and new fashion looks from various parts of the world have become easier to show and spread to the world.
E-girl fashion, is a popular fashion style, started on the internet as a sub-culture of the scene aesthetic of 2000s, K-pop, punk, emo, grunge, rave culture, etc.
Unlike travelers or food-vloggers who are get paid to try new places or foods, e-girls on the internet are more focused on showing several sides of the body, such as hairstyle, makeup, and outfits.
Like Harajuku, Japanese street fashion, VSCO Girl, or various other fashion styles that have become a trend on social media, e-girl fashion also has its own uniqueness that makes it easy to identify, those are skirts, striped and oversized shirts, heavy make-up, and bleached hair.
Several musicians like Doja Cat, Billie Eilish also take an influence on this outfits.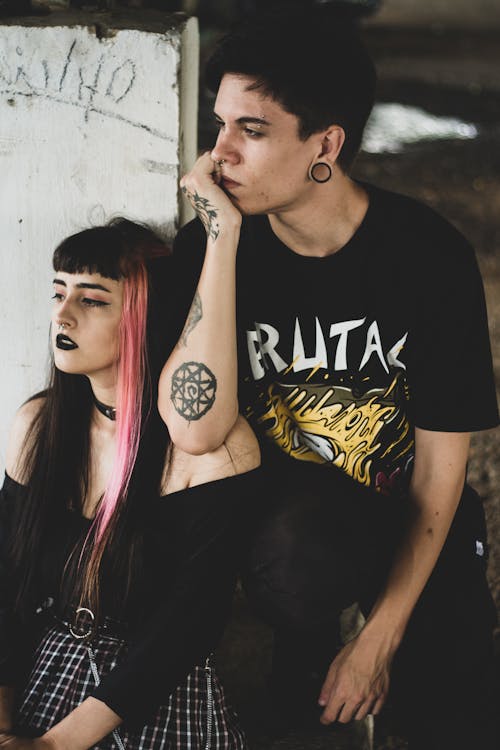 How Can I Express Myself Like an E-Girl?
The hallmark of this one e-girl aesthetic, basically are winged eyeliner, heavy makeups with vibrant color for eyeshadow, and added by a child-like persona often associated with anime and cosplay, defined by colored hair and cute stamps.
1. Know the highlights
To dress like an e-girl, it's important to know the highlight of an e-girl style that you will wear later. The following are important highlights that you should use to create an e-girl clothing style.
– Outifts
For clothes, the hallmark or highlight of the e-girl style is the selection of dark colors with a touch of pastel colors.
Then, the clothes are made with layers, where one long-sleeved striped shirt is then a t-shirt over the top.
For subordinates, you can wear baggy pants, or to be more identical, you can wear a plaid mini skirt. Don't forget to add fishnets stockings and black platform shoes or boots.
– Makeup
Identical to heavy makeup, you can wear a contrasting eyeshadow that is dark on the outside, like smoky eye makeup.
Although there are no special marks on the eyes, what you must add is thick winged eyeliner that makes the e-girl makeup impression stand out more. To add 'dark' points in this outfit, you can use black nail polish.
An important point that should not be missed is stamps under the eyes, or blush stamps inspired by the anime on the apple of the cheeks because this is a sign that you have an e-girl style.
– Hairstyle
E-girl fashion is a combination of several styles, with a touch of innocent child-like girl. This touch can be obtained through the hairstyle you wear.
What you see a lot in e-girl inspiration, are usually pigtails, space buns, or styled into a bob.
Don't forget to give your bangs a bright color like light pink highlights or even dye your entire hair light green.
2. Learn the difference from VSCO girls
There are various fashion styles such as Harajuku, dark academia, e-girls, and VSCO girls. All of these styles have different characteristics.
VSCO girl can be said to be the opposite of E-girl where the women dress up in clothes with vibrant colors, with lots of cute accessories such as scrunchies in hand, and don't have layers of clothes.
VSCO girls are preppy and easy-breezy, goes with the same look every time. While e-girls are edgy, dark, grunge, and goth with spiced up style every time.
Make sure first which kind of aesthetic you want to choose.
3. Choose the right influencers
Many celebrities can certainly be a source of inspiration or trend-setters of a trend.
This e-girls fashion trend is also no exception. Globally, many artists have similar fashion to e-girls that you can make influencers or muses for your outfits later.
One of these artists is none other than Doja Cat, who even has a video guide to e-girl beauty.
Doja admitted that he imitated the style on pinterest and did not know about the term e-girl, but then his style became a trend.
Other e-girls that you can style or just follow to entertain yourself are Emma Langevin, Maya Zaya, Nava Rose, etc.
What You Should Wear to Create E-Girl Outfits
1. Oversized T-shirt and Sweatshirt
Something comfy like oversized t-shirts and sweatshirts is the main goal of every style we trying to pull, especially for this e-girl outfits.
Oversized jackets or long-sleeve clothes, then layered it with your favorite top or your band merchandise.
Usually we want to use black long-sleeve under the top, or to be more particular, long-sleeve striped t-shirt is acceptable.
2. Plaid Skirts, Black or Checkered
Pleated skirts is like a key to your e-girl outfits.
The black pleated skirts is versatile and easy to custom with anything, including your sweatshirts and t-shirts, boots, and fishnet stockings.
You can wear a cute black top, plaid red pleated skirts, and chunky sneakers. Wear leggings under plaid skirt also can be your alternative option to dress like an e-girl.
3. Pop-colored pants
If skirt is not your style or you feel less comfortable, worry not.
Denim and cargo pants can be your choices for your e-girl looks.
However, you are not trying to blending in if you're going to get e-girl fashion.
You have to choose color that can pop up your trousers like vibrant pink or neon green. The point is to make eyes caught you.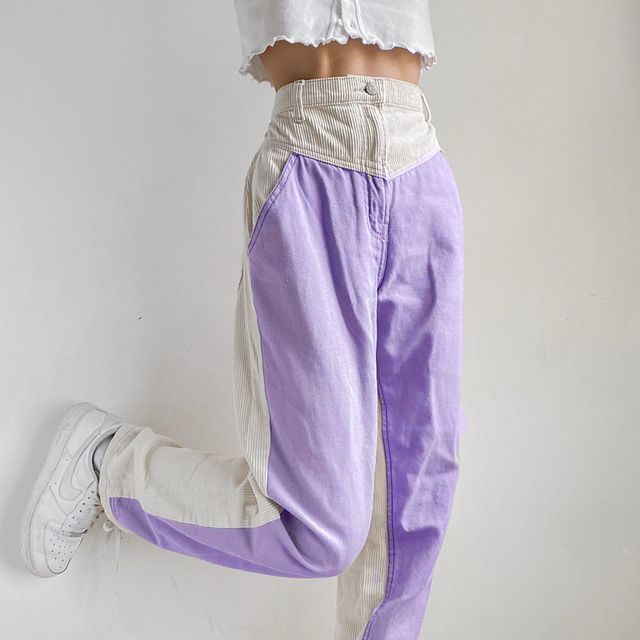 4. Crop tops
When the temperature begin to rise up, you can change striped long sleeve to a cute crop top or t-shirt to get a cute e-girl outfits.
Crop top suits most with high-waist denim or skirt.
Whether you choose to dress with a slinky cami crop top or a cool long-sleeve, cute crop top with a loud pattern on the chest, you will definitely eat this e-girl style up.
5. Platform sneakers
Chunky platform sneakers, especially the black or dark colored one is like a form of rebellion that e-girl fashion usually adopted from emo and grunge style.
Black or white platform sneakers is actually the safest option.
Moreover, you can style it as you want with pair of neon socks or light green shoelaces. Mix and match it to fit your aesthetic best.
6. Butterfly Hairclips as Adorable Accessories
Hair accessories will later add a girly impression, such as other critical items such as chain necklaces or belt chains.
Any shape, such as butterfly, star, or love colorful hairclips can always be the highlight that will polish the hairstyles of the e-girls.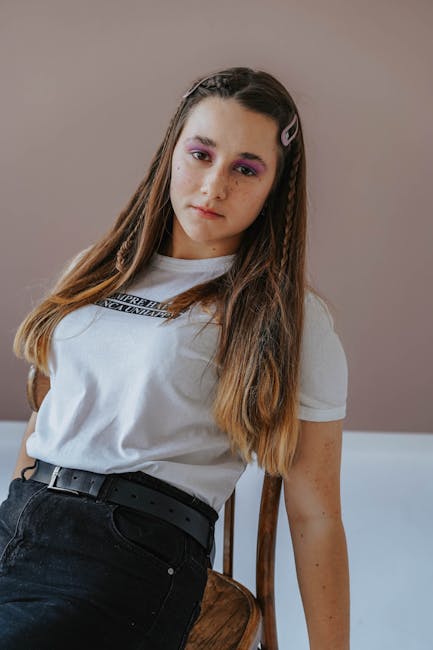 7. Beanies
There must be one day, especially on a cold day, our hair is messy and unruly. Or simply, bad hair day.
At this time we will be too lazy to do the styling because we don't want to be angry at our own. Beanies or bucket hats will be our savior on days like this.
Any color, match it with our outfit that day and we will still be able to look stylish.
8. Choker necklaces and Fishnet Tights
Layers, layers, and layers.
To add layers to our outfits, of course jewelry such as necklaces and chokers will be very helpful. There would be no e-girl outfits without edgy earrings or choker necklaces, so make sure to put them to make your style complete.
Of course, you can't miss fishnet tights to wear under your skirts too.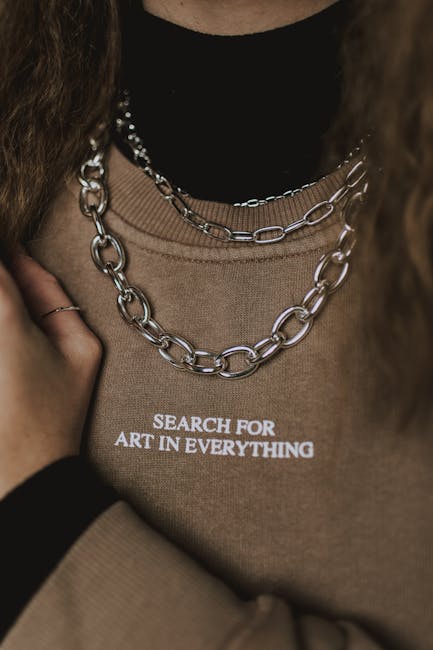 9. Chain Items
Another must included accessories in every e-girl outfit is chain accessories, such as chain belts.
Your plain trousers or plain skirt will immediately brighten up and highlighted by this pieces of chain you put there.
This one key point will add grungy vibes to your look and keeping loose pieces in check.
10. E-girl makeup
As I mentioned in the highlight points that makes crucial to e-girl fashion, make sure to put those signatures in your make up.
Once again, mix soft and pastel shades alongside with bright cute stamps on cheek bones. Never forget winged bold eyeliner as your main point.
11.   Your Favorite Influencer Merch
Your favorite e-girl, Billie Eilish t-shirt. You must have at least one of dozens of clothes in your wardrobe, right?
Don't be afraid to combine your favorite printed t-shirt with the striped long sleeve that you use as the base of your outfits.
You can also make one color in the image on your shirt to be a highlight color that becomes a solid match for your style of the day.
12.   Black Nail Polish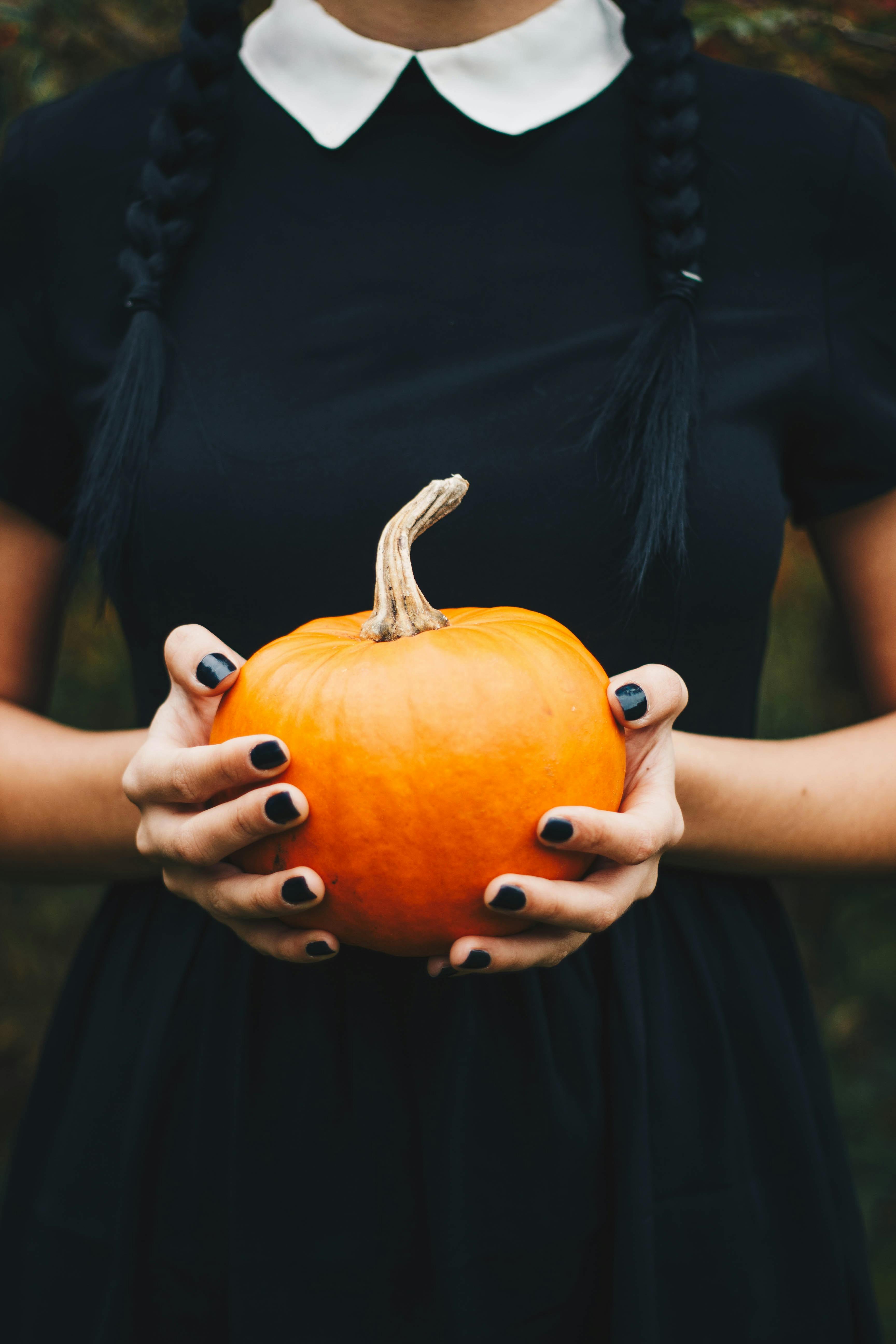 There's no way you've used layers of clothing and accessories, but left your fingernails pale.
As a complement and finishing of your aesthetic, you can use black nail polish.
It doesn't have to be plain, you can use a motif that fits your looks that day.
Or you can mix black and white because they are both neutral colors.
13. A cool pop socket
You must have done a mirror selca to show your e-girl clothing of the day, or the make-up highlights that you managed to apply on your face, right?
Plain smartphone is not a good choice and not enough to match your outfit.
Therefore, we highly recommend having a cool pop socket installed on the back of your phone.
There are no specific rules, just choose the one that suits your taste.
Where to get your ammunition
Normcore Studios is like an Eden for fashionable clothes seekers.
You can get most of the e-girl clothes, and other fashion from Normcore Studios that of course made with good quality.
It girl based on Guangzhou City, china. It is a top destination for those of you who are looking for e-girl clothing sources.
All aesthetic clothes from pastel kawaii girl until hot pink e-girl, they have all you're looking for.
Yesstyle proves that grunge and goth clothes aren't dead yet.
When you visit the site, you will be taken to the source of dress, from floral dresses, to t-shirts, flannels, even beanies, and denim.
4.       ASOS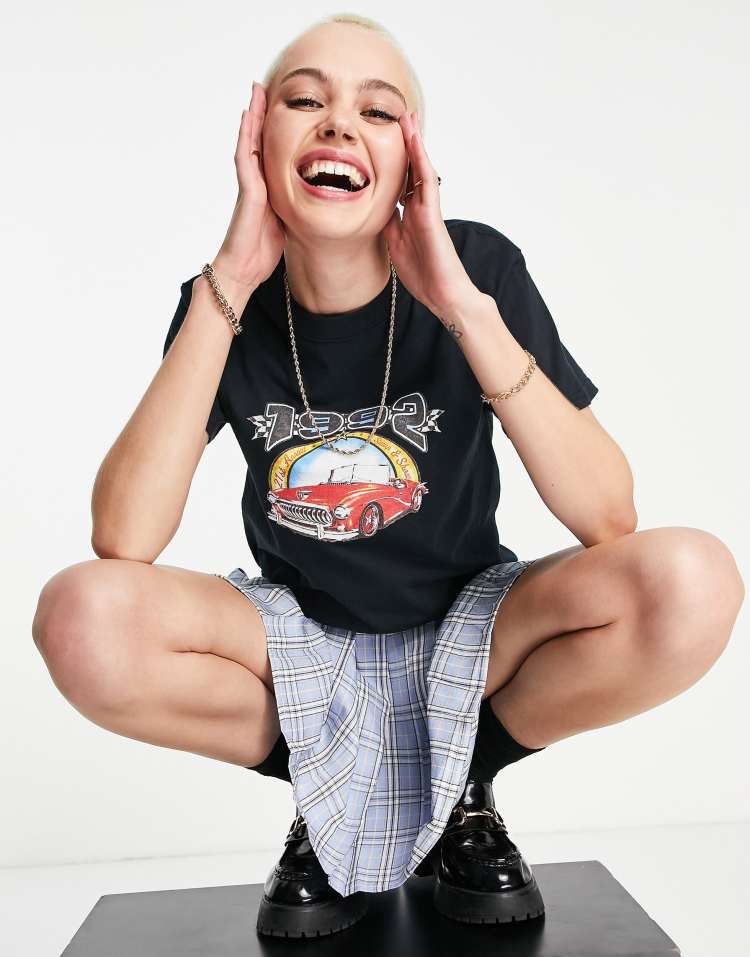 ASOS is an online shopping powerhouse that supports self-expression and freedom to experiment.
From cottagecore, dark academia, and light academia, they have all the aesthetic fashion you're looking for.
StyleupK is a clothing store based in South Korea.
What's good about this store is that they have a wide range and various choices of unisex clothing, ranging from feminine sweet, girl crush, to vintage girl styles.
They have over 1500 positive reviews so the good quality can't be doubted.
Orezoria provides various sections from aesthetic clothing, shoes, and accessories that are presented with styling ideas that you can use as a source of inspiration for your outfits.
All things rainbow is the definition of infinity.
They don't limit themselves to sticks to one aesthetic, but instead have a wide selection of various fashions and outfits that are trending.
Not only clothing, this brand also have jewelry, including armor-like bracelets and rings.
There are many places that sell aesthetic accessories, but only Cosmique Studio that also sells watches.
You will find affordable e-girl fashion pieces with no shipping fee by this brand.
9.       Etsy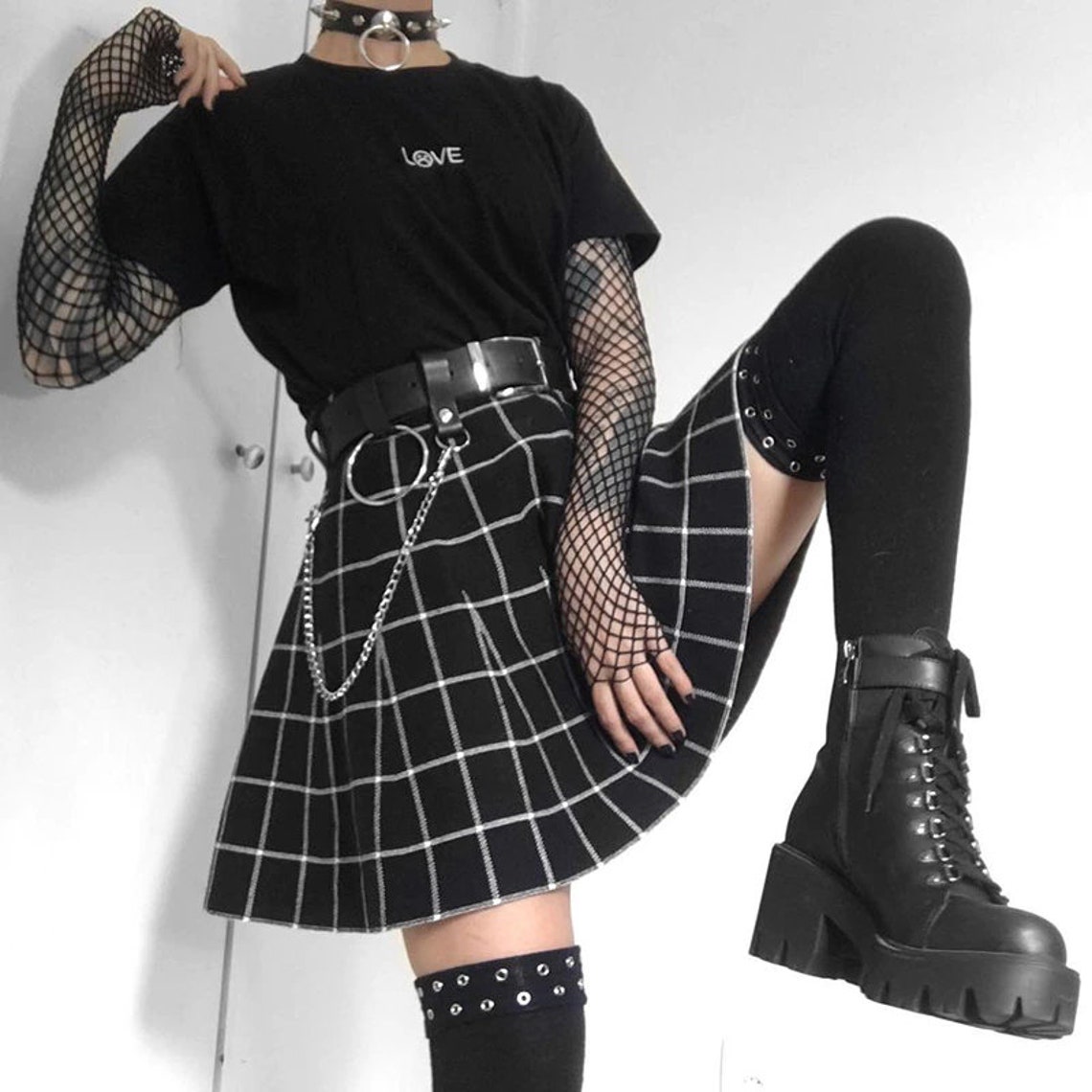 If you are looking for affordable, unique, and vintage aesthetic clothes, visit Etsy site.
Many items are sold from small brands and independent creators, so you can be sure that the items you buy to fill your wardrobe are unique and anti-mainstream.
Conclusion
To be an E-girl, you can always wear highlighted outfits with dark and bright vibes. We suggest you to check on our fashion category to find other information about trending fashion.