Generally, owners of thin hair have problems with hair that looks limp and does not have volume. Frequent exposure to sunlight and pollution also makes hair damaged because the cuticles are eroded, making them dry and thin. In fact, beautiful hair with volume can increase your confidence, Ladies . That's why, you can add volume to your hair by routinely doing the following five good habits!
How to Add Volume to Flat Hair :
1. Using Natural Masks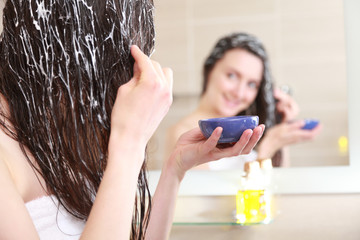 For the sake of volume and shiny hair, you need extra care on a regular basis. Although there are many instant mask products available to nourish and increase hair volume, you can make your own hair mask at home. One of them is a mask of a mixture of bananas, eggs, and honey. How to make it easy. Blend one banana of any kind, one egg, and one tablespoon of honey until it thickens. Then, apply to wet scalp while gently massaging. Make sure the mask reaches all the roots of your hair, ladies . Then, cover the scalp with a warm towel and shower cap. Leave it for two hours and rinse with warm water.
2. Scalp Massage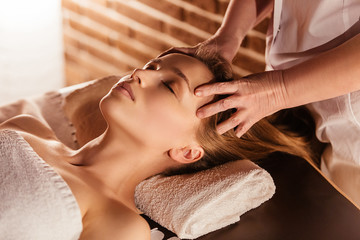 A light, simple massage can improve blood circulation and encourage new hair growth. The tension in the scalp can hinder blood circulation and add to the buildup of dust and dirt, making hair look dull and limp. That's why you need to do regular massages for healthy hair with volume. Massaging the scalp can be done during cream bath or before shampooing. Just massage your scalp for 3-5 minutes a day to improve blood flow and supply oxygen. When massaging, place your hands with open fingers on either side of your head. Make circular motions with your fingertips to relax the nerves behind the scalp. If the massage is done before shampooing, add olive oil or coconut oil to stimulate hair to grow thick and voluminous.
3. Pay attention to the comb used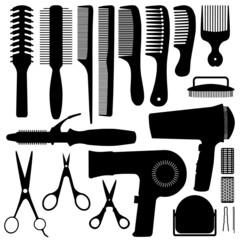 Choose the right comb to give the effect of volume to the hair. Avoid combs with hard, plastic brushes as they can damage your hair and cause it to break and fall out. To create a voluminous effect, use a round comb with a flexible nylon brush. This type of comb glides well on hair, especially thin hair, creating beautiful waves. How to comb was not arbitrary. Start combing from the middle to the ends of the hair, then continue by combing the hair from the top of the hair to the ends of the hair.
4. Change the Hair Part
Ladies, did you know? Styling your hair on the same side every day will expose your scalp to that side of the sun more often. This can lead to hair loss, thinning, and lack of volume. In addition, the hair color in the area is also getting duller. That's why, try changing the part of the hair on a regular basis. You can change the parting of the hair on the left or right side alternately. You can also style your hair in a middle part if you have flat bangs. At first, it may seem strange to change the side of the parting. However, your hair will adapt in a few days ladies. By changing the parting of the hair, you will get volume hair instantly.
5. Choosing the Right Shampoo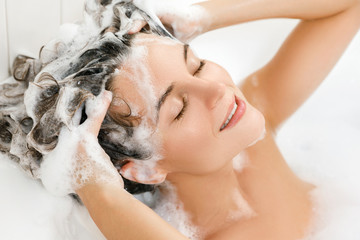 You need a shampoo that contains lots of moisturizer to hydrate your scalp. A hydrated scalp will avoid dry and stiff hair. Therefore, you can use Dove Volume Nourishment with Oxyfusion Technology formula to nourish your hair without making it limp or dry. Oxygen injection from Oxyfusion Technology makes the nutrients in the shampoo perfectly absorbed, so that it can be directly dissolved in the hair strands and does not store excessive residue. Hair becomes soft and voluminous.
So ladies, those are tips to add volume to flat hair! If you want to add volume to your hair try to do those things!